Every year with what used to be a pukka bike club but has now lapsed into a « bunch o' mates » we have a « boys only week end » basically a week end away by bike, differing from the other trips in so much as it involves lots of riding, lots of twisties & NO shopping…
We went to the Auvergne last year but due to various circumstances we missed out on most of what we'd planned to do, so we went back this year.
I actually have very few pics to go with this, which is a shame cos the scenery is stunning & the roads wonderful, but this lot are not into photos & would soon get very tired of me stopping all the time. I can see I'm going to have to go back on my own at some point…
Rendez vous was given for 07:45 Saturday at a mate's house about 5 km from me. The weather forcast had been crap all week but now looked like we might just get away with it.
I was up early & left home about 07:30,
does my bum look big in this?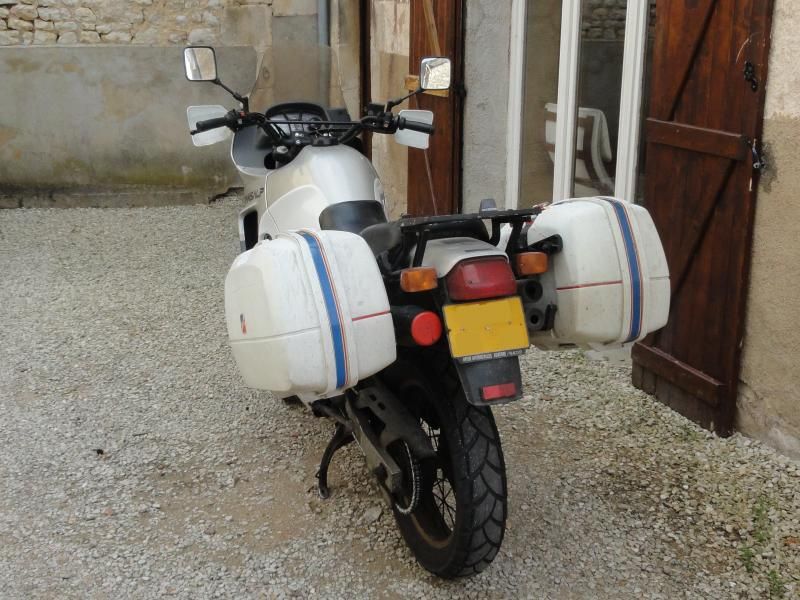 it had been raining all night but despite the grey skies it had stopped raining & wasn't cold (15°c). We lost ¼ hour waiting for one member of the troop, though as we've known him years we had "budgeted" for his habituel ¼ hour… just don't ever tell him…
From Vallan then, we rode the N151 (one of my fave roads) to Clamecy where we hooked up with our southern contingent
the Clamecy hook up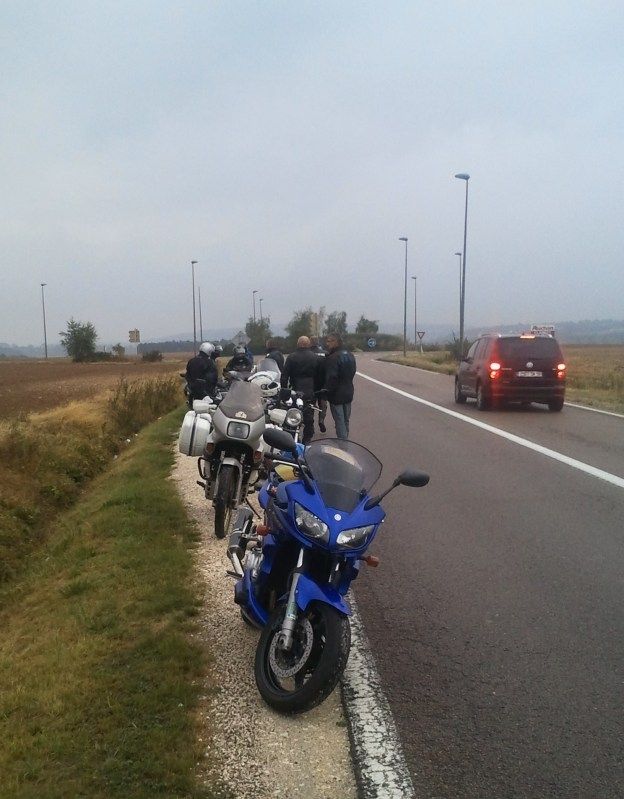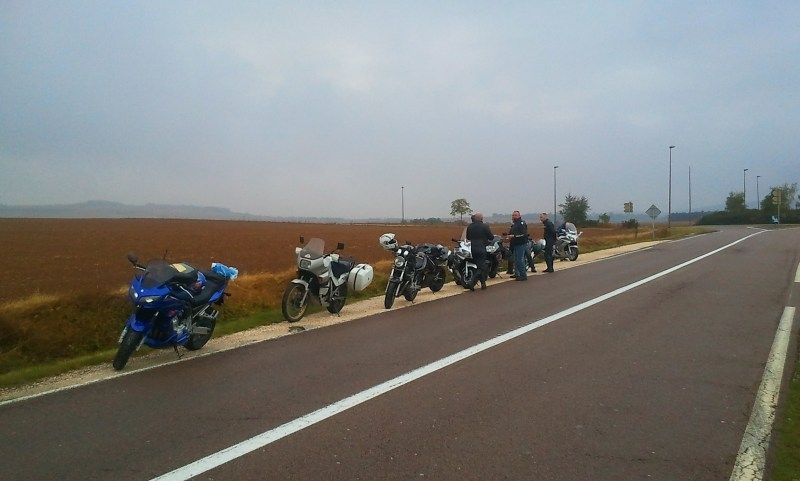 & rapidly set off again in the mist to get the 230 odd km to Clermont Ferand done & dusted before Lunch so's the fun could start straight afterwards. Clermont Ferrand is on the northern edge of the Puy de Dome in the Auvergne & is our stepping off point for the region.
230k isn't much but with 11 bikes strung out in the traffic it all takes a bit longer & boy do we have an eclectic range of bikes & abilities in the group, as you'll see.
We stopped for 2nd breakfast ( )
( coffee & croissants) break at nevers around 9:30ish I think.
being true burgundians, some of the boys preferred alternative refreshment, even at that hour!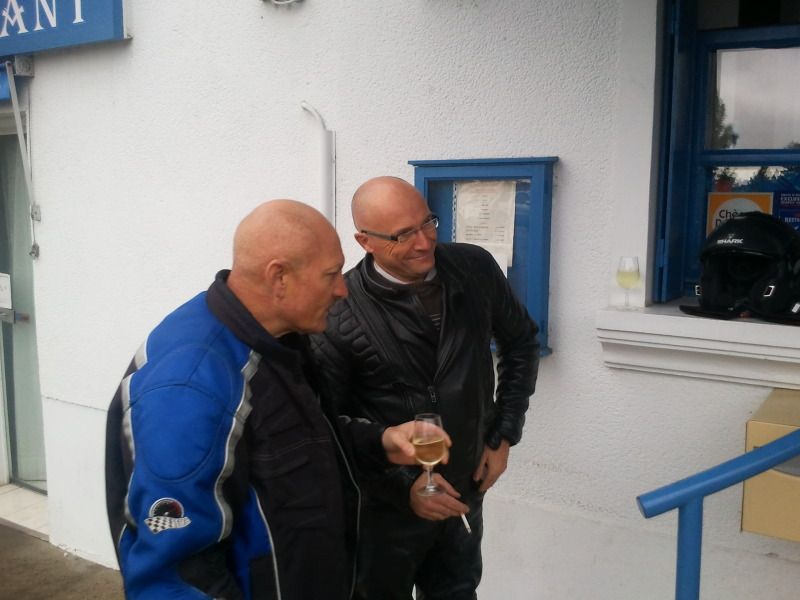 We paused again half an hour later to suit up as it had started raining & looked set in for the day. Luckily, it wasn't & only lasted 'till clerment. Our "organizer" for the route had planned for us to arrive at The "buffalo grill" at Clerment at 12h00, so I complained loudly when we rolled up at 11h58…
Lunch was the usual affair & we then set off again, fuelled up on the outskirts of town & headed for the hills. Fuelling up also takes some time with 11 bikes to do at a 2 pump station… The sun had come out again by now & with temperatures rising into the upper 20's everyone divested themselves of liners etc at the fuel stop.
We changed leader at this point & as it wasn't me I haven't a clue where we went
but we saw some staggeringly beautiful scenery & rode some ace roads, I will get the "road book" from blue leader & do a route map as soon as I can, he was also filming at leat a couple of the cols as well so I'll try & get that out of him too.
I know we went through Murol twice from different directions, Mont dore, La Bourboule, le col de la croix morand from west to east & finished up with the col de la croix st Robert from west heading east. This is a pearl of a road, it's used for hill climb racing & has a series of hairpins & twisty bits to die for, a flawless surface, full safety barriers & all but 2 of the bends you can see clear across so you know if there's anything coming down or not. Needless to say, this is where all hell broke loose & it all got very silly… once at the top, a couple of the less experienced riders or those who have bikes not designed to go round corners…
waited at the top whilst we went back down & had another go…
There is footage of this somewhere I hope…
This is also where I really had the poor old tralp to it's limits. Now, I haven't a cat in hell's chance of taking on an R1
, even in the really twisty bits, but I held everybody else off
, & if I'd had about 100 hp more I'd have taken one of the FJR13's as well
, we were all over the bigger bikes in the corners, but on the exits we just didn't have the power. There were some ramarks about "all I could see in me mirrors was moon's panniers…"
so I left the panniers at the top for the 2nd run
but it didn't make enough difference…I never cease to be amazed at the transalp's capabilities, she's 21yrs old, 118000km & can still mix it with the nutters in the twisties.
I wouldn't do it every day though, she doesn't really appreciate being pushed repeatedly over 8000rpm…
We sat & basked in the evening sunshine for a while taking in the scenery & bulling about "what you should have done" in each & every corner…then just gently dropped down into Le Mont Dore where we stayed in an "auberge de Jeunesse" & spent the evening seting the world to rights, eating, drinking & generally making merry.
ok, time to intruduce the usual suspects, or their bikes anyway.
the Best first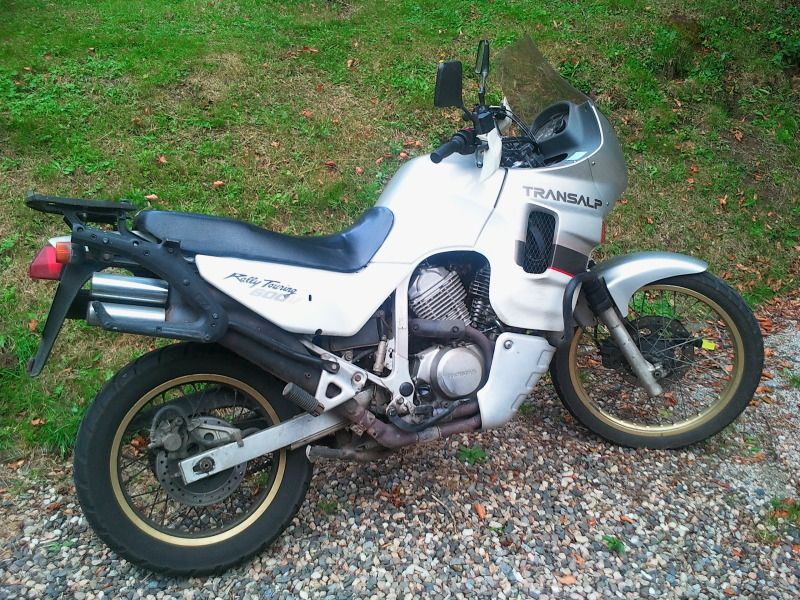 Thierry, FJR1300
Carlos, Harley something or t'other, it weighs about 8 tonnes I think but he can really make it swing!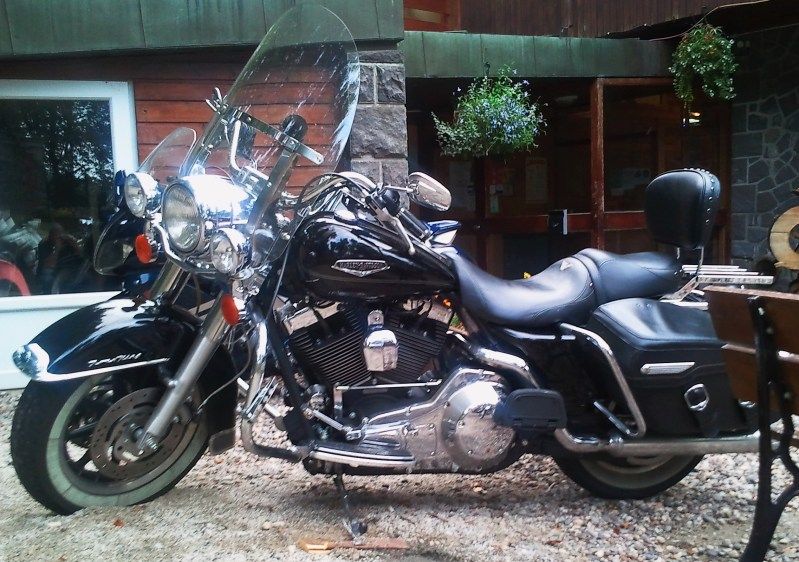 Patrick, BMW K1300S
Jacky, some horrendous japanese pretend Harley bar crawler that doesn't DO corners...
:guff
Bibi, Z1000
J.C. FJR1300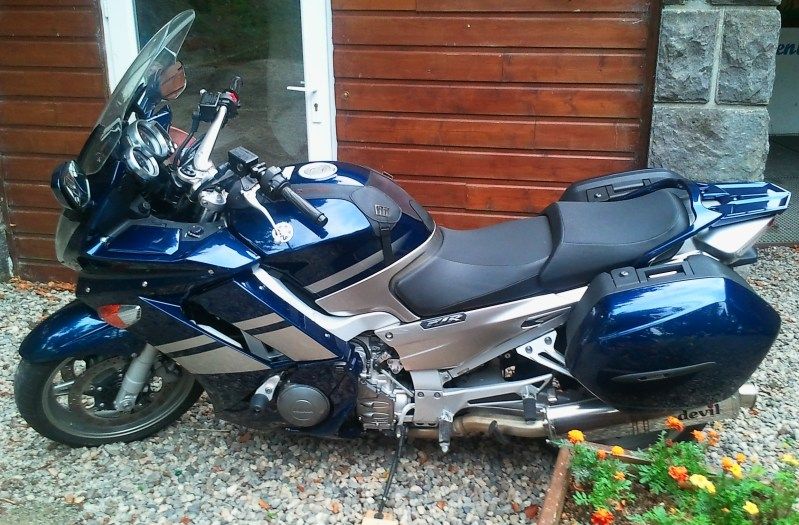 Alain, surface to surface missile
(R1)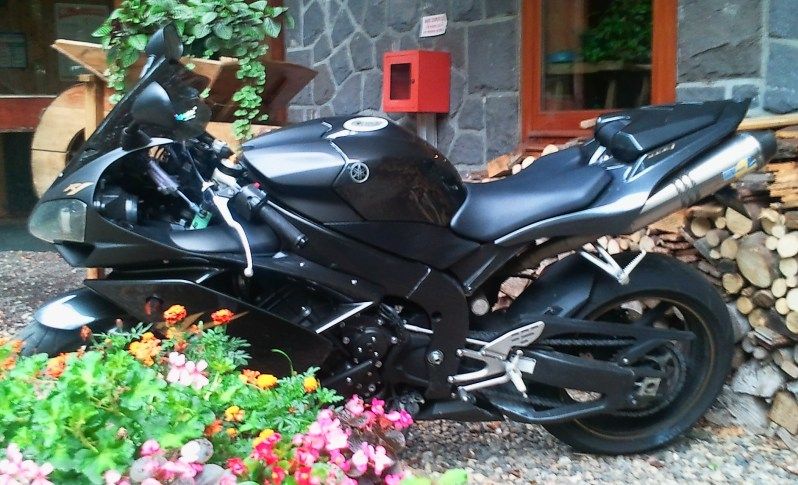 Bruno, bandit 600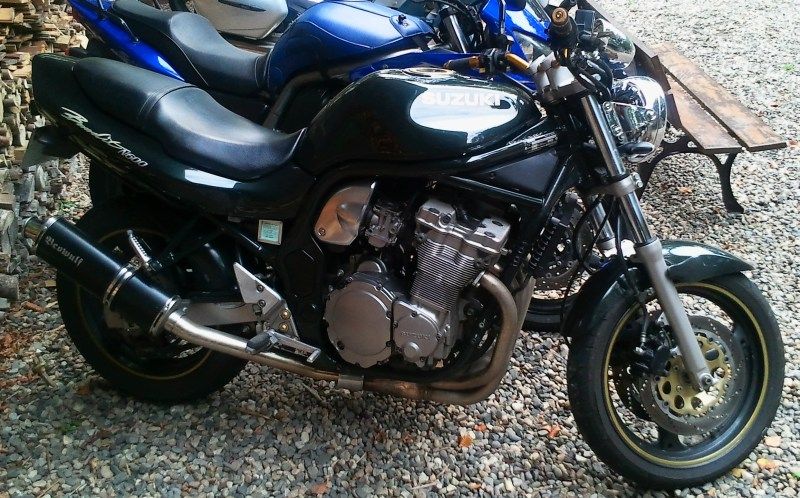 Jean-Mi, Fazer 1000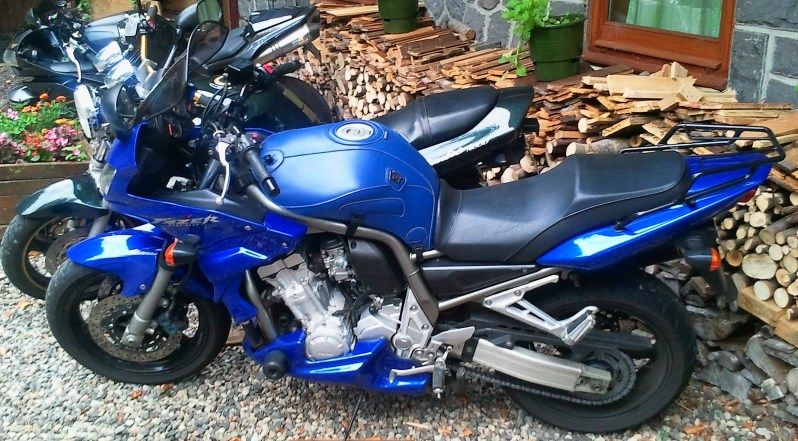 Manu, FJR1300
Sunday, up & at 'em for 09h00, find some gas & then a more "sightseeing" than fast route taking us northwards through Pontaumur, St Gervais, & the gorges de la Sioule. Lunch was had in a smallreataurant right on the river which turned out to be run by an English family, slow but good food & cheap… & lots of it!
The only problem that that generated was that I'd originally planned to leave the group after lunch at 14h00 around Vichy, it all took so long that I left them at 15h00 in Gannat so an hour later & 20k further west than planned. As they turned north & headed for Auxerre, I continued east, heading for my parents in law's in Louhans, where I'd said I'd be around 18h00.
What with a couple of major deviations (which I cheated & just boxed round on local roads rather than follow the deviation signs)& a couple of accidents (not me!) with police directing traffic & cars in ditches etc, I really had to pour the sauce to make it on time & thus didn't get any pics of this bit either…but it wasn't very interesting anyway, my plans to wander across country on the minor roads having been scuppered by the long lunch I just took the route nationals, Vichy, Lapalisse, Le Donjon, Digoin, Montceau, Chalon sur saone & Louhans. Just stopping once for fuel & a quick ciggy / arse rest break.
Grabbed a quick shower at the outlaws & was straight out to see an old mate who wanted to buy me a meal (& I never turn down a free feed)
Monday, nice lie in, lazy breakfast whilst a storm front went through & set off for home around 10h30 ish. This is my old stamping ground & I know it well so I took the wee back road along the river as far as Chalon, having to stop & suit up about half way.
Staple crop for the area, Maize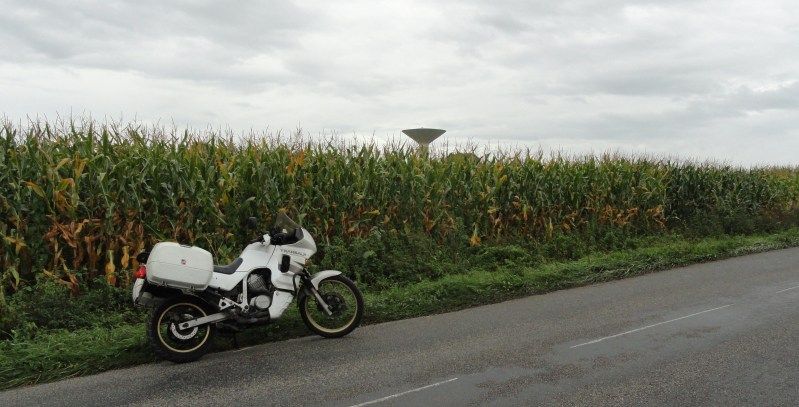 From Chalon I just took a lazy run up the N6, just cruising which was fine cos it was blowing a hooligan (forcast was for 75km/h gusts from the west, I was riding north) & a couple of times I thought I was going to be blown clean off the road. There were a number of campervans that looked very dicey, zigzagging all over the road & looking like they might turn over at the next gust, mind you, they probably though I was mad to be out in it too! Again because of rain & wind few pics.
Up through the vinyards of "la cote chalonnaise" at Rully, then through the southern end of "La cote de Beaune" at Chassagne Montrachet & St Aubin.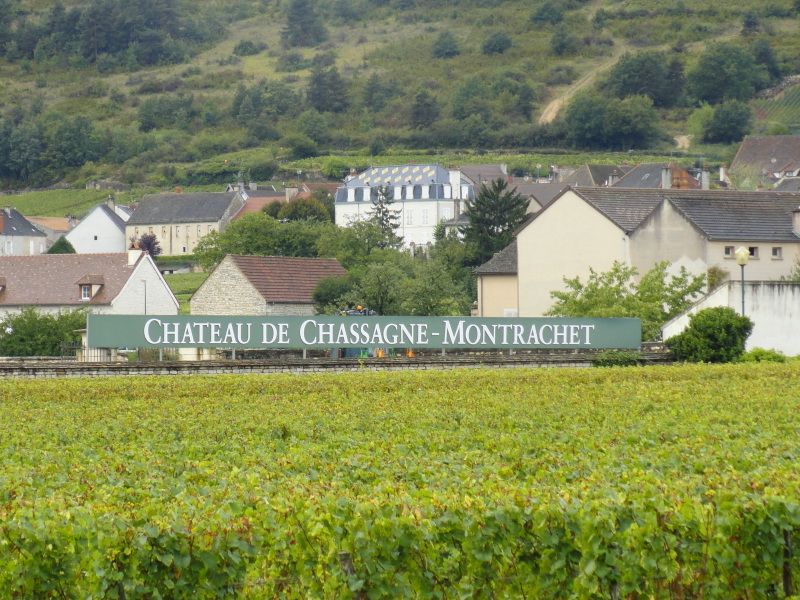 The grape harvest is in full swing, but can't be much fun with a regular series of quite violent line squalls moving east
I did find a place for lunch a restaurant tha only does charolais beef! "I'll have 2 of them then please, with chips!"
Got home around 3. Bike never missed a beat, rain gear never let any rain in, I guess nearly 1200km done over the 3 days (I'll have to see the road book to be sure).
Now I just need the weather forcast to change from "biblical deluge" to just "damp" or even "wet" so that I can do the Oradour sur Glane trip on Thursday, which I will be doing alone & should be able to get at least some pics out of.
I will try & update this with some precise route info as soon as I can get it.