( Being an account, in many parts with divers characters and scenes, relating a history of Birtles IV and Rider who,
in their forays through the Land, ever sought to espy the elusive Koala and to shun Pastries of Interesting Content )
Major Players, in order of appearance :
Glitch
: Facilitator and chronicler of motorcycle tours.
Gudrun
: Spouse to Glitch, cook extraordinaire.
Christal
: Experienced traveller and adventurer.
Birtles
: CT110, young at heart and nimble of limb.
Bernard
: Foreign traveller, first companion of Birtles.
Grimpeur
: Climbing bear, second companion of Birtles.
Peggie
: Lucky peg number 96, first advisor to Birtles.
Ringie
: French wristband, second advisor to Birtles.
Lyall
: Farmer, now retired and resident in Forbes.
Kaye
: Spouse to Lyall, and a maker of excellent tea.
Kota
: Japanese cyclist, a mighty battler of winds.
Mrs Mac
: Baker of Pastries of Interesting Content.
Koala
: Mythical beast.
_______________________________________
ACT 1
In which Birtles sallies forth, and a Castle by a lake is discovered
Pete's done a sterling job. Amongst other things, Birtles now has new wheel and steering head bearings, new tyres
and tubes, forks that are drained and refilled, even his headlamp is polished. He's looking like he will do the
lap of the continent with ease - and Birtles might make it as well.
Born in 2007 and now with 28,353 on the odometer Birtles is no spring chicken but Pete reckons he sounds sweet, and I agree.
Check out how Pete prepared Birtles at
http://www.austouring.com/forum/showthread.php?t=4107
A few trial runs into the Dandenongs and Birtles performs well until he splutters, looses power and then falls silent
as we are climbing to the summit. He starts again easily but the process repeats every time his nose is pointed up.
Back to base, where the carb is cleaned and the electrics are checked by substitution until the problem seems to go away.
But, maybe it was just water in the tank as later it briefly occurs twice more. When it does, I ask Soichiro's forgiveness
and decide on a kill or cure approach. Birtles gets the berries (two large punnet's worth - you know the ones, the ones
with the really big, ripe strawberries on top and the smaller ones sneakily hidden underneath) and that cures the problem.
Perhaps it took a while to purge every bit of moisture?
On go the other fittings. Pack, panniers and racks have come off a CT at home, so they are quick bolt-on jobs.
The front rack is well worth fitting as it's perfect for the tent, giving easy access to the item that is usually the first
to be unpacked and the last to be packed each day.
Air NZ, or rather one of its pompous employees (aka "that bastard") at the luggage check-in had given a thumbs down
to the XR250 tank even though there was documentation to show it was prepared to the airline's requirements.
I flew out, tankless, while Sue investigated getting it on a cargo plane, but at $450 freight and dangerous goods inspections
at both ends ($150 in NZ, Australian charge unknown) it was not an option.
The white tank in this photograph is courtesy of Tim, another person without whom the trip would have
been a slow-starter - thanks Tim!
Positions are found on the over-loaded frame for Birtles' companion and advisors. Grimpeur is zip-tied to the handle bars,
Peggie is pegged to the speedo cable, and Ringie is stretched around the speedo housing. They are getting vocal
about what lies ahead - "Climb, climb!" urges Grimpeur; "Ride 'till die" Peggie chants, and " … …" , a tangible
silence from from Ringie, who refuses to speak unless addressed in French.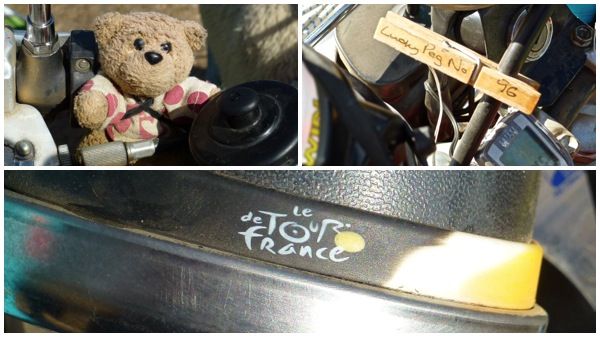 While staying with Pete and Goodie I meet Christal, Pete's mum. She is an inspiration with accounts of her outback travels.
Four times over the Gibb River Road and visits to so many of the places I hope to see. Her enthusiasm is infectious and
I understand why Pete has such a love of travel. With all the help, interest, and good wishes from my hosts, the Melbourne
riders, and those on the AusTouring site, this trip is no longer just a private amble around the continent. I feel like part of a
team in which I happen to be the one tasked with the riding. It's a pleasant feeling, but one that brings with it the responsibility
of being worthy of all that help.
Christal pipes me off with a German folk song, the same melody that Elvis pillaged for his song "Wooden Heart".
The original German words are more fitting than those of the crooning King: "Must I then, must I then, leave the village,
and you, my dear, remain here?"
(Photograph below by Pete)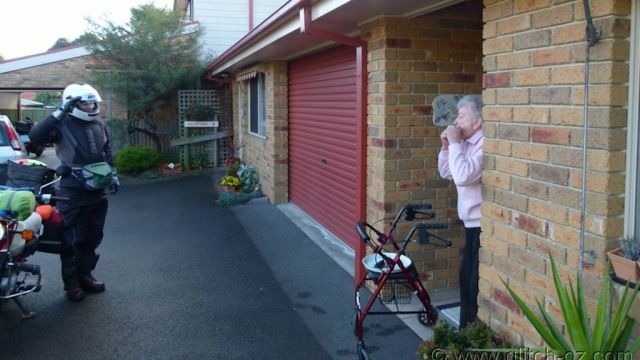 Yes, I must, I must. How can I ever return if I never depart? Christal's salute is returned and I quietly hope to be a
fraction as bold as she has been in her travels.
Down the street with one hundred meters safely completed - just a few more to go. By the look of the brake light,
I'm already stopping for lunch.
(Photograph below by Pete)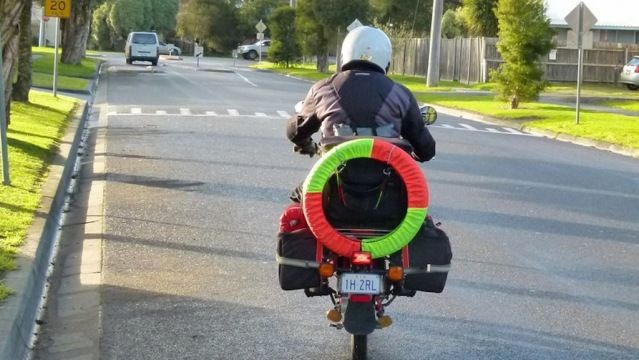 Pete has suggested a route to take us through some nice areas as we head towards Lake Eildon. Comprehensive directions
are not enough for one who gets lost in a mall, and it's not long before there's a wrong turn over the Brisbane Bridge
in the Yarra Ranges.
A helpful local directs me to the Acheron Way where the damp hill roads going towards Mount Donna Buang are a treat.
Birtles is in his element with no other traffic to push him beyond his comfort zone on the twisting, gentle climb.
Cool mists, condensation on the visor, and the buzz of excitement that starting a new trip always brings.
"Climb, Climb!"
Over the top to Marysville through avenues of tall straight trunked eucalypts flanking the way. The kangaroo might
be a common metaphor for this land but the eucalypt would be a better one. Thriving naturally from the alps to the
scorched interior and so common that they go unnoticed, they provide shade and shelter, their wood has built houses,
bridges, railways, furniture, and fuels the weekend barby, their roots hold the hilsides together, their leaves feed the air and
their litter feeds the soil. And, best of all for me right now as I pass between them, they just look so
magnificent
.
Between Marysville and Buxton the forest gives way to open pasture land with blue skies overhead. Mists evaporate,
temperature rises. At Buxton Birtles gets another occy for his spare tyre which needs extra restraint. I consider one
for my spare tyre as well, but the bum-bag is doing an adequate job so far.
At Alexandra we head back into the hills via the Maintongoon and Sonnberg Roads, on winding gravel leading to Lake Eildon
and Bonnie Doon. The end of the Maintongoon Road has a familiar little cottage right next to the high tension lines.
I check to see if the Kerrigans are there, looking up contentedly at the lines and revelling in the tranquility, but the place is
empty - they must be back in Melbourne at their other Castle.
Lake Eildon is just across the road and over the water floats the soothing sound of an outboard motor at full throttle.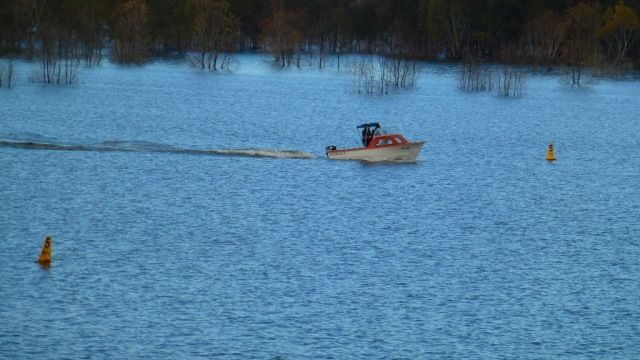 The old railway has been converted into a rail-trail paralleling the road bridge over the now brimming lake. Birtles can't
resist a quick squirt along it when no-one is about.
Last time I saw the "lake" there were 4WD tracks and trees over its bed and the locals were mumbling about the evils of irrigation.
That's the same road bridge in the distance.
2008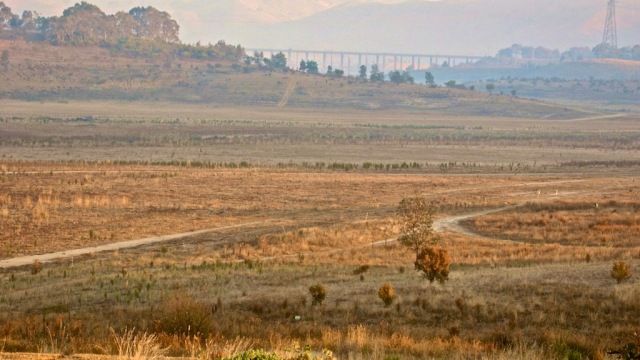 2012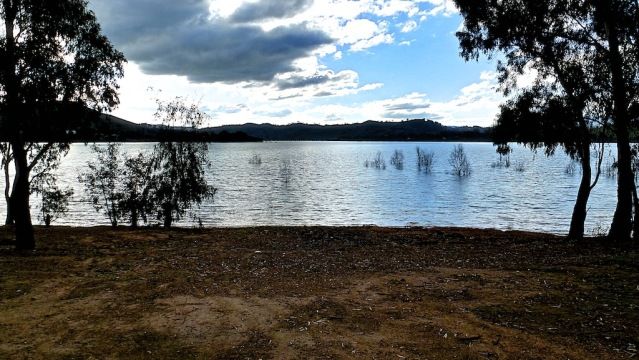 The thong-tree is new - amazing how quickly they grow. Those red ones look like they are ready.
I don't even look for a tent site at Bonnie Doon. By four o'clock the sun has lost all warmth, the clouds have thickened, and a
get-under-cover-asap instinct drives me to a cabin for the night. Later, when rain lashes the windows, and the temperature
falls to minus 2, I stop chastising myself for taking the easy option so early in the trip.
There are many ways to amuse yourself in a cabin. One of my favourites is called
"Boomph"
in which players take turns
plugging in ever more appliances to the same outlet - you're out if your turn blows the fuses. Someone's started a game already.
It's been a slow day to start the trip off, just 185 kilometres, but they have been varied and interesting. I am starting to see
why the southern Victoria roads are held in such high regard by motorcyclists.
... To be continued ...
Last edited: